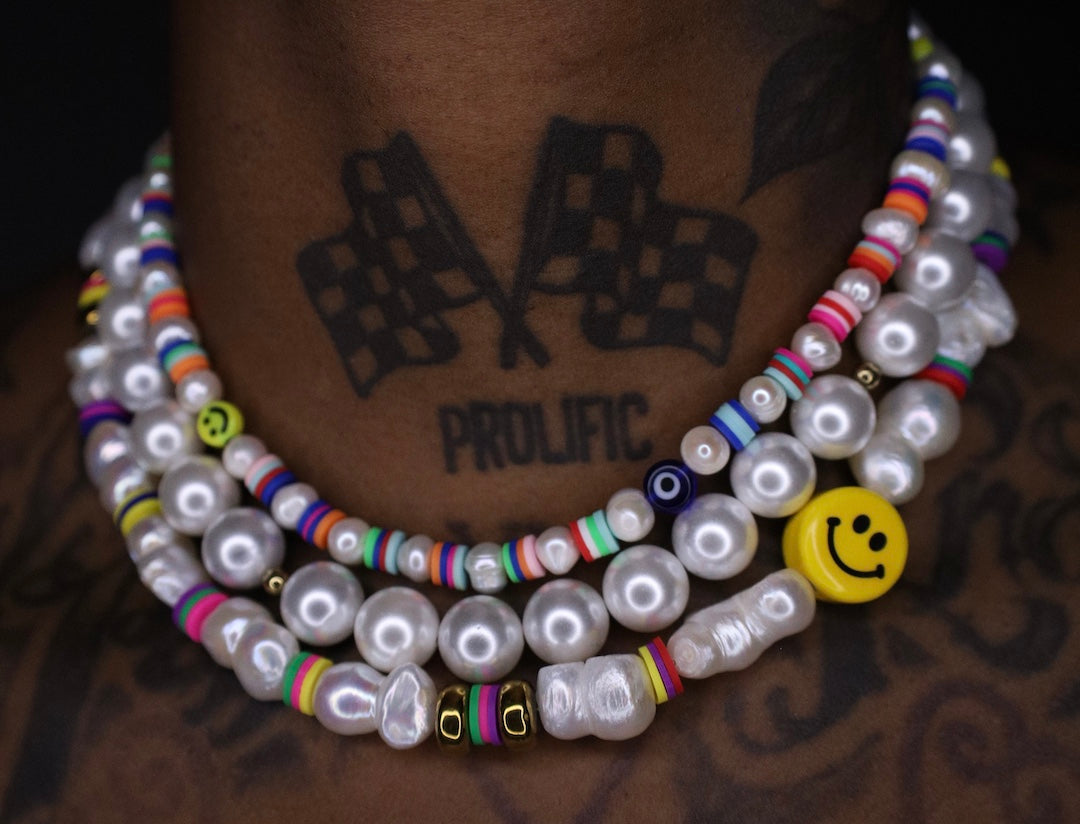 Inspiring the Inner Child with Color Therapy Jewelry
Just imagine, it's the early 2000's on a Saturday morning. You've got a box of Lucky Charms and your favorite cartoons on the tv. A combination unmatched! The girls are wearing pink Juicy tracksuits, and the boys are showin' out with their XXL black Pro Clubs and baggy denim jeans. The energy of the world is feeling ambitious and cutting edge as we settle into the new millennium. What a time to be alive. 
A time period forever encapsulated and stored in our hearts. What if you could wear that feeling whenever you'd like? The
Y2K inspired jewelry
amplifies the energy of our childhoods, bringing in those blissful moments of having a summer break, or going out of town for the holidays. These beautifully crafted pieces were made with intentions to inspire the inner child in you. 
The Bliss Beaded Pearl Necklace is a fashion statement that invites us to tap into our inner child and live our lives in color, with style! 
Color therapy is the idea of intentionally using colors for their healing vibrations and frequencies to change the mood of the wearer. Remember how we used to buy mood rings to tell us the color of our emotions? Funny times! The No Bad Days 2.0 beaded necklace is a fashionable and symbolic reminder to help keep our emotions in alignment so that we can stay in the flow. 
Our Jewelry is made with color therapy in mind to inspire the child in you. This jewelry will amplify your creative gifts and help you explore the inner passions you may have had as a child. It inspires us all to dive deep into healing our childhood trauma, so that we evolve to be well rounded people with class! 
The handcrafted beaded necklaces will brighten up any outfit you pair them with while also lifting your spirit. You can stack or layer them as you please! Just like a kid in a candy store with big eyes and grabby hands, the 7 Chakra Crystal Beaded necklace will have you hungry for more flavors to add to your collection. It will also bring you balance and peace once the colors are activated when you adorn them on your body. Leaving you feeling grounded, powerful and ready for the world! 
So? What's your Flavor? 😋
Written by: Alise Hylton