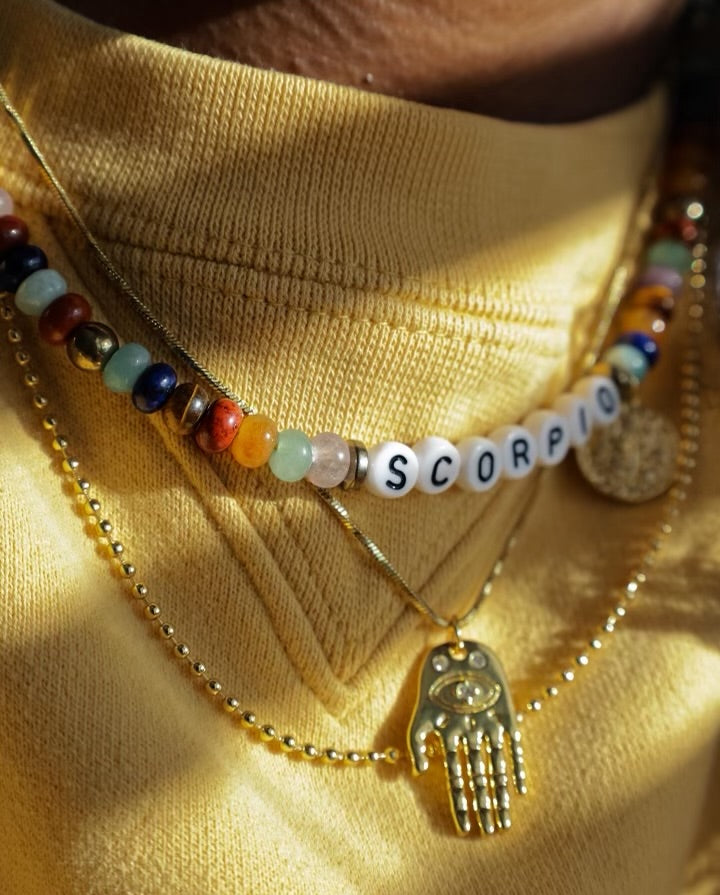 New Moon In Aries & What This Means For The Signs (And Your Crystal Jewelry!)
This is the prime time to recharge and cleanse your crystals. Our jewelry can also be amplified and cleansed during this time and we're going to tell you exactly how we do it! 
New Moons can act as the perfect energy portal for manifesting exactly what you want! It is a time to set your intentions and call out to the Universe your heart's desires. Speak your dreams into existence!
This is the prime time to recharge and cleanse your crystals. Our jewelry can also be amplified and cleansed during this time and we're going to tell you exactly how we do it! 
But first, let's talk about the Zodiac Signs and how this New Moon in Aries will shake up our worlds, and give us a ride of our lives! 
Aries- This new moon is especially special for you because the moon falls under your sign! Take this time to focus on YOU and your goals. Set the tone for your success by diving deep into you and feeding into your heart's pleasures.
Taurus- This new energy will be the boost you need to remind yourself that sometimes isolation works out in your favor. Working hard behind the scenes so when you pop out, you actually POP OUT!

Gemini- Get ready Gemini, this energy is propelling you into new adventures with new people! If you have been working on a new project, you'll soon be surprised at the amount of support you receive from your peers. Don't hold back, and give it your all!
Cancer- Sweet Cancer's you guys are in for big career changes! Take the reins and lead with confidence during this new wave of energy. It will work out in your favor. Stay grounded!
Leo- My fellow Leo's, this new moon will act as a reminder that you already know what you need to do, it's a matter of putting yourself out there and actually doing IT! Honor yourself in ways that amplify your creativity and never doubt your abilities to create magic. You got this!
Virgo- This month you are focused on friends and family and how you can service them better. Remember that you are a part of that list of people to care for as well! When tending to the needs of others, don't forget to fill up your cup! 
Libra- This new moon energy has got you feeling like, "Where the parties at?!" You will be entering into a phase of your life that allows you to meet and connect with like minded people. Leave those in the past who deserve to stay there. Just "Drink wata, and mind your bizness!"
Scorpio- It's all about YOU this month, Scorpio. Focusing on a new self care ritual would be best for you. Understanding your daily rituals and how they affect your overall life is your focus right now. Revamp and renew is your theme this month!
Sagittarius- Risky, Risky! This month you will be encouraged to try things you've never done before! Whether that is asking out the cutie in the coffee shop, or taking up a Barre class because summer is right around the corner. Whatever you choose, know that it is choosing you too!
Capricorn- Calm, Cool, and Collected are always a part of your energy, but this New Moon energy is asking you to be BOLD, and Assertive when making decisions regarding your family or home life. We know you know what you're doing, just remember to step outside your comfort zone once in a while.
Aquarius- Get ready to put your thinking cap on, Aquarius! This month is encouraging you to take the time to learn new things! It is the perfect time for you to dive deep into studying about the things you are truly passionate about! Don't hesitate to jump right into that book about starting a new business either!
Pisces- This month is all about your finances! You could come into another stream of sustainable income, or your hard work will be rewarded by your boss with a raise. Either way take this time to splurge a little on yourself if you can, the money will always come back to you! Trust yourself to make the right decisions this month.
Now that we've covered how this New Moon energy will affect us all, let's discuss how we can cleanse and protect ourselves during this magical time. Wearing our Protection Crystal Jewelry can help protect you from negative energy, and keep you in alignment with yourself.
Cleansing your crystals can be done many ways, but the most effective and popular ways are to use sage to cleanse the energy off your jewelry, and then placing them in a windowsill that gets the most moonlight. Allow the crystals to charge overnight. Doing this simple ritual will allow your jewelry to become amplified with good energy and keep you vibin' high! For any of your Prosperity Jewelry using Sweetgrass will cleanse, but also attract more prosperity into your life. Stay dripped up, and protected in the streets. Happy New Moon Vibes! 
Written by: Alise Hylton